04apr7:00 pm9:00 pmGreg Sanchez: Entheogenic Mycolotry and Ethnomycology of Mesoamerica
Event Details

Greg Sanchez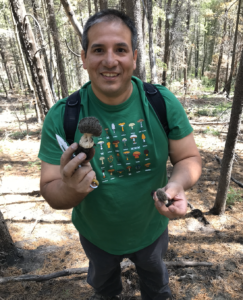 Greg Sanchez knew nothing about mushrooms until 2004 when he wondered, "What do you do at a mushroom festival?" After attending the Telluride Mushroom Festival that year, hearing talks by myco- legends Gary Lincoff, Paul Stamets and others, cooking and tasting, going on forays, and shouting "We Love Mushrooms!" in the parade, he found out, sparking a lasting fascination with and a deep passion for all things fungal. Greg is a high school Social Studies teacher in the Denver metro area and an active member of the Colorado Mycological Society, serving in various roles including the 2022 CMS President. Although he considers himself a generalist and amateur when it comes to mycology, his social science background brings him a special interest towards the human connections with mushrooms, mushroom people, and Ethnomycology.
Entheogenic Mycolotry and Ethnomycology of Mesoamerica
As a subfield of Ethnobotany or Ethnobiology, Ethnomycology focuses on the roles and relationships of fungi within the human experience. Mesoamerican cultures and their association with sacred mushrooms from the genus Psilocybe are both fascinating as well as mysterious and hold an essential role in the evolution of Ethnomycology. Our current psychedelic renaissance owes a huge debt to ancient sacred practices held by numerous indigenous groups around the world. This talk will focus on indigenous Mesoamerican spiritual and cultural uses of entheogenic mushrooms, many from the genus Psilocybe. Much of my emphasis will explore past research done by R. Gordon Wasson and other pioneers in Ethnomycology. We will also examine the importance of Maria Sabina, her sacred mushroom ceremony, and Velada.
Meeting ID: 919 1856 7078
Passcode: 972381
Time

(Monday) 7:00 pm - 9:00 pm
Location

Sturm Family Auditorium

1085 York St.