14mar7:00 pm9:00 pmRoy E. Halling: "Getting a grip on Boletes: from there to here"
Event Details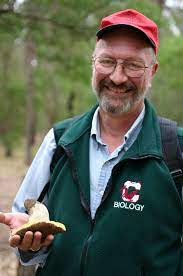 Getting a grip on Boletes: from there to here
Roy E. Halling
When: March 14, 7:00PM
Where: Sturm Auditorium, Denver Botanic Gardens
Mushrooms with spongy pores under the cap (boletes) are widespread around the globe and are well-known for their occurrence in both temperate and tropical forest habitats and woodlands. They can be quite large (well over a foot across) or very small (less than a half inch in diameter). Species recognition is often fairly straight forward while generic concepts have been subject to a north temperate bias due to historical precedence. Morphological diagnoses (both macro and micro) have been the primary bases for distinguishing one entity from another. With expanded access to, and increased exploration of under explored parts of the world, especially the southern hemisphere and the tropics, increased complexity and diversity of boletes has become evident. Also, with the recent development of techniques to analyze DNA, the testing of hypotheses on evolutionary relationships among morphologically based distinctions has come under scrutiny. Examples derived from an expanded biogeographic sampling and DNA testing illustrate the dissection of the original broad concepts of Boletus, Leccinum, and Tylopilus.
Roy Halling was born in Iowa and grew up in Southern California.  He received his B.A. from California State University Stanislaus, his M.A. from San Francisco State University, and PhD from University of Massachusetts. He is a Curator Emeritus of Mycology at the New York Botanical Garden, where he carried out research on the classification, systematics, biogeography, and diversity of mushrooms. Roy has been involved in exploration, inventory, and documentation of fungal diversity via field work around the world in northern and southern temperate zones as well as the neo- and paleotropics. Field efforts in these areas have added substantially to general knowledge on tropical and temperate fungi. Recently, explorations have emphasized surveys to document the diversity, evolutionary & mycorrhizal relationships, and distribution of the Boletineae (a suborder of porcini-like mushrooms). International collaboration with other specialists has been underway on systematics, biogeography and phylogeny of Bolete mushrooms with particular emphasis in Australia and SE Asia. He has authored or co-authored over 120 scientific publications.  He has mentored undergraduate interns, honors students, and four PhD candidates. He served the mycological community as President of the Mycological Society of America, a society from which he received recognition as a Fellow of the MSA and as a Distinguished Mycologist.
Zoom Details:
This meeting will also be live streamed, find the details below!
https://adams12-org.zoom.us/j/91918567078?pwd=V0ZZcFN2blhINURZSTlVR1BMUTRFQT09
Meeting ID: 919 1856 7078
Passcode: 972381
Time

(Monday) 7:00 pm - 9:00 pm
Location

Sturm Family Auditorium

1085 York St.