Registration for 2023 classes will begin on
May 23rd, 2023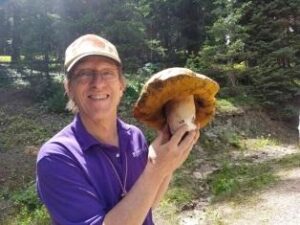 Jon will be offering two beginner beginner and one intermediate level class on mushroom identification as a members-only benefit. Each class consists of 2 classroom sessions with a field trip sandwiched in between.
The cost for each class is $50/person. The classes are limited to 48 people each. Sign up early May 23 if you are interested, as they will fill quickly. Find the list of classes below to purchase tickets when they become available!
The Classes
The beginner's class will cover the following topics: basic fungal biology, the major groups of fleshy fungi (mushrooms), essential macroscopic features needed to identify mushrooms, how to use mushroom keys, what-where-when-how to collect, mushroom literature for beginners.
The intermediate class will include the above, plus current Family & Generic concepts in mushroom taxonomy, differentiating important Colorado species, habitat-specific importance, poisonous and edible mushrooms in our area, introduction to micro-chemical tests.
The Instructor
Jon Sommer has been a member of CMS since 1993, is the immediate Past-President and is President. Jon received degrees in Botany & Plant Pathology (mycology) from Humboldt State University and The University of California, Davis. He has taught mushroom classes and given talks and lectures in mycological topics around the country since 1970's.
For further information, contact Jon Sommer: jon@jsorealty.net
The Deets
 The cost is $50 for each class (includes 2 classroom sessions, 1 field session)
Field trip dates are July 22nd, 23rd, and 30th. A link to sign up for a field trip date will be sent in the confirmation email after booking. 
Classes are limited to 48 participants
CMS members only