2019 1st Foray ("Winter Foray") –Report
Happy New Year 2019.
Historically CMS starts the forays season with either snow bank foray in (Early June/Late May) or during the Mother's Day holidays (Mother day foray). CMS kick started the 2019 season much earlier than usual with a Winter Foray.  Our Winter Foray turned out to be the earliest Foray ever held by CMS as well as the first ever "Winter Foray". A salute to the motivated participants who helped demonstrating that even in Late January or Early February there are treasures (mushrooms) to be found.
Saturday February 2nd 2019 turned out to be a fantastic day and perfect for foray hike to shake off the winter blues. It was a sunny with a temperature of 60 degrees. The foray was held along hiking trails in Chery Creek area and led by Mr. James Wieser, a long time supporter of CMS. This foray had 14  participants with several new/first time members to CMS from Boulder, Ft Collins and as far as Greely. We also had our CMS Board director- Gene Nandrea, 2019 CMS Foray Chair person-Christy Honigman, CMS President David Nazeri attending this event.
Specimens found: _1-Oyster Mushroom  (Pleurotus Polmonarius), 2-Enotake or Winter Mushroom (Flammulina Velutipes), 3-Dryads Saddle, 4-Slime Mold Spore Deposit.
With Exception to Dryads Saddle (which probably fruited in 2018) all other specimens found were fresh (fruiting in 2019) as foray leader had expected. Interestingly enough, it was not the seasoned eyes who found the prized winter mushroom, Enotake. It was our first ever member, Emma Jones from Greely Colorado who found the first cluster. We think it was a fitting honor and a tribute to someone who drove such a long distance to join our members only CMS foray. Congratulation Emma!!! Other members found the other specimens and or new clusters.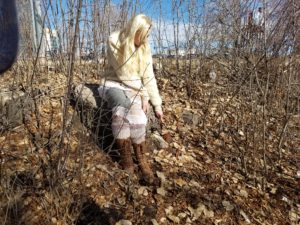 Emma Jones showing her find, a cluster of Winter Mushroom (Velvet Foot).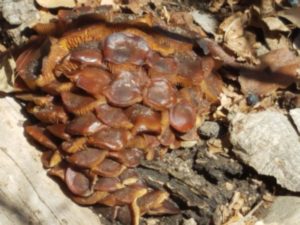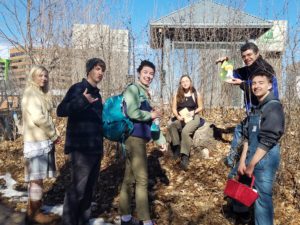 Alyson sitting next to fruiting cluster while James shows a copy of "Mushrooms of Colorado" by Vera Evenson.
(Others pictures: Emma, Hendrik Pot, Sage Greenlee, Drew Brown and Drey Brostoff).
No mycellium were harmed nor any mushrooms were harvested (for personal use) during this winter foray demonstration. Individual mushroom were extracted from cluster of the winter mushrooms by Foray Leader, James Weiser for a closer identifications. For example to demonstrate as to why the winter mushroom (Flammulina Velutipes) is also called Velvet Foot a sample was removed. Few pictures from event are attached. Apologies for any typo or misspelling of names. A big thanks to all participants specially Foray leader, James Wieser who helped making this event an enjoyable and memorable.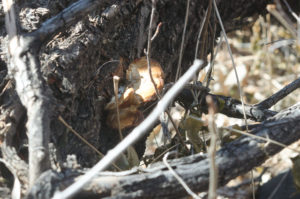 Pleurotus Polmonarius
David Nazeri